Using Behavioral Ethics to Drive Values-Based Cultures of Accountability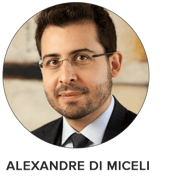 Alexandre Di Miceli is a professor, consultant, researcher and an expert on corporate governance and business ethics. A founding partner of Direzione Management Consulting in Brazil, he is the author of several books, including his most recent, "The Virtuous Barrel: How to Transform Corporate Scandals into Good Businesses via Behavioral Ethics."
Di Miceli talks about how companies are using behavioral ethics to help create values-based workplace cultures, what some of the biggest challenges are to doing this, and how to tell if what is being done is working.
How does behavioral ethics change an organization's calculations for how it builds a strong, values-based culture?
The traditional approach to ethics is prescriptive and aims to inform people how they should behave. Behavioral ethics, in contrast, focuses on two other questions: How people behave when they are exposed to ethical dilemmas, and why good people sometimes do bad things. So while the traditional approach assumes people are rational and fully reflect on their actions, behavioral ethics assumes most transgressions derive from our inner psychological processes and the powerful contextual pressures of which we are part.
So far, this field has reached two major conclusions: We tend to overestimate our ethical conduct, and most of the wrong things are done by good people. This, in turn, substantially changes the way organizations should address ethics and compliance issues. Companies should come to understand that the greatest risk for unethical actions does not come from a few bad apples, but from individuals with good values who begin to rationalize their unethical behaviors as a result of cognitive biases, day-to-day pressures, and a perverse temporal dynamic.
Why is the rational mind not enough to get someone to do the right thing? Why must emotion be considered?
Until the end of the 20th century, the prevailing idea was that we could be fully rational most of the time, except for the moments in which we would be under the strong effect of emotions. Actually, this is an outdated view. The modern view on our decision-making process demystified the idea of full rationality. Research has shown that our reasoning is rather limited and that our decisions are strongly influenced by our often-distorted perception of reality, which leads to self-serving biases. Our decisions, therefore, are to a large extent predictable, but not rational.
Research has also shown that, when faced with ethical dilemmas, people behave virtuously when they are moved not only by reason but by intuition, emotion, and empathy. For example, a study concluded individuals suffering from trauma in brain regions associated with emotions find it extremely difficult to make ethical decisions, while another observed brain areas related to empathy are very important for moral decisions. ... The bottom line is that emotions play a key role in restraining our unethical behavior, and it is not possible to talk about ethics from a strictly rational perspective.
What are the two biggest challenges organizations face when trying to use behavioral ethics to shape their culture and ethics and compliance programs? How can they overcome those challenges?
The root problem of ensuring ethical decision-making deals with the tacit rules for survival and flourishing inside the companies. Often, these rules require obeying to superiors to make them comfortable, conforming with peers, being opaque, pragmatic, malleable, amoral, and hypocritical if necessary, always prioritizing public relations. These implicit rules of the game sooner or later are likely to lead to unethical behaviors.
Companies have two major challenges to create environments in which ethical conduct is easy-to-do, automatic, and customary. The first is to rethink two fundamental questions: What does business success mean, and what should be the role of managers? In my view, a successful company is one that pursues a broader purpose beyond profits, that lives according to its values, and that in this way creates lasting value for all its stakeholders. Managers role, in turn, should be leaving a positive legacy for all stakeholders by being accountable to the company, a concept that transcends the interests of shareholders.
Are there economic metrics to show the benefits of employing behavioral ethics? Do enough organizations calculate this?
One of the core conclusions of behavioral ethics is that business scandals are caused by dysfunctional management systems that induce ordinary people to become ethically blind. As a result, it predicts that establishing an ethical culture under a virtuous leadership style--based on elements such as trust, transparency, accountability, high intrinsic motivation, psychological safety, organizational justice, cooperation, empathy, and a sense of community--is the key to prevent unethical behaviors in any organization and lead to enhanced performance.
The good news is that there is growing evidence backing this assertion...including a study that I did on the link between employee satisfaction and firm performance based on around 110,000 online reviews over a six-year period. Among four dimensions of employee satisfaction, the dimension on "culture" exhibited the strongest positive connection with performance.
Companies from the top quartile in culture, for instance, exhibited an average return on equity of 9.9% over this period, about 2.5 times the average return on equity of 4% from the bottom quartile. In addition to these academic papers, LRN's "The HOW Report" provides evidence of the return on investment gains coming from a better understanding of behavioral ethics. Adopting a broader approach to compliance based on a sound ethical culture pays off, and will be an important source of competitive advantage in the 21st century.
How will AI, machine learning and robotics impact the use of behavioral ethics by organizations?
This is a very complex issue that still needs a lot of debate and research so we can reach a more conclusive response. On the one hand, the advances in technology increase the possibility of using nudges to improve ethical behavior in organizations. It also allows for new ways to monitor employees and identify the bad apples.
On the other hand, though there are several ethical concerns on the limits of employee surveillance and its potential side-effects. In the extreme scenario, companies may be able not only to track employees' every move, but also to know them better than themselves through algorithms and biometric sensors that will manage to read their emotions. This of course may lead to manipulation, which is a seriously unethical outcome. There are also other relevant side-effects. One is that companies operate under a sort of a continuum between a control-based and trust-based approach towards their employees. In my view, business leaders should try to move this continuum over time to the trust side in order to bring the best out of people.
Ben DiPietro
@BenDiPietro1
ben.dipietro@lrn.com
A survey of around 3,600 security and IT professionals worldwide by IBM Security found 77% said their organization doesn't consistently employ a cybersecurity incident response plan across all parts of the business.
Former Volkswagen Chief Executive Martin Winterkorn was charged with fraud for his alleged role in the automaker's emissions cheating scandal, Associated Press reports.
Former Malaysian Prime Minister Najib Razak was back in court as his corruption trial continues, South China Morning Post reports.
NPR looks at some of the safety concerns that could arise as artificial intelligence becomes more prevalent in the practice of medicine.
The Interior Department is conducting an ethics investigation into its new leader, David Bernhardt, The New York Times reports.
The indictment of Julian Assange shows how hard it is to protect classified information, Kate Fazzini writes for CNBC.
Some employees at online app game HQ Trivia tried to get their chief executive fired; instead, the company fired two of the leaders of the ouster effort, TechCrunch reports.
Even before regulators get involved, companies are leveling allegations of antitrust violations against each other, Axios reports.
Major League Baseball hasn't made much progress in the past year in improving racial and diversity of its hiring practices, Associated Press reports.
| | |
| --- | --- |
| We're excited to announce that LRN's new ethics and compliance podcast, Principled, is launching tomorrow. Listen and subscribe to learn valuable strategies and receive actionable advice from E&C experts that you can apply to your business. | Recently, LRN's Danielle Schlar was interviewed by Namely. Read more to learn how she redefines human resources as a critical business function and strives to reshape the role of human resources. |
About the Author

More Content by LRN Corporation