College Admissions Scandal Question: Where Was Control, Oversight?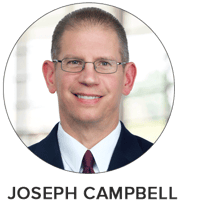 Joseph Campbell, a former FBI agent who now is a director at professional services firm Navigant Consulting Inc., used to perform investigations similar to the one conducted by federal agents who busted the people involved in the college admissions scandal.
The shoddy compliance programs at the implicated universities, which allowed the bribery and fake admissions to occur, make the colleges culpable in what happened from an ethical perspective, he said.
Campbell talks about what organizations can learn from the scandal, and what universities should be doing to improve their lax oversight.
What are the ethics lessons to be derived from this?
JC: Never underestimate the ability of people to take advantage of situations and money to gain an advantage. The defendants in the college admissions scandal were driven by greed and lost sight of serving the public and their students. They took advantage of a lack of internal controls and neglected compliance enforcement.
Universities collect and spend money like any business. It is the responsibility of university leadership to implement policies and procedures to ensure that fraudulent activity does not take place. They must lead by example and tone. They have a greater mission as well to serve communities and promote education of our youth for the betterment of society. To achieve that mission, they must adhere to a set of values that promote service over profit.
What can universities do to implement them?
JC: University leaders must drive a culture of compliance and ethics throughout the organization through consistent and widespread communication and regular training. When their employees see them caring about doing things the right way, and communicating that ethics and laws do matter, then those employees are much more likely to care about and comply with an ethics and compliance program. They will know unethical behavior is considered unacceptable, and there will be repercussions for violating policies and procedures.
In the reviews of programs and policies I've conducted in my current position and during my time in the FBI, the majority of serious policy and law violations could have been avoided by strong and engaged leadership at the top. [That involves] setting the right tone of an expectation of compliance, and broadly and consistently communicating that expectation, assertively seeking out problems before they become serious, and promptly and objectively disciplining employees who violated policies.
What can be done to fix the ethics and compliance oversights that led to these failures?
JC: Universities need to determine where were the breakdowns in compliance, internal controls, and communication that meant this scheme could occur without the proper authorities becoming aware. Since this is a catastrophic failure of compliance and internal controls, universities need to ask what else do they not know about what is occurring at their institutions that could be problematic.
Universities should have a culture of ethics and compliance that is clear and well-messaged. Every university should have a code of conduct for students and employees. Aside from the key component of treating others equally and with respect, the code should discuss the expectation employees will comply with all university policies and procedures, laws and regulations.
The university's policies should clearly set out under what circumstances students can be admitted, and also set out actions not permitted to be used to admit students, such as ACT/SAT test cheating and the coach bribery scheme. An effective system of controls...should include due diligence on employees, vendors, and third-party agents, and continuous and comprehensive risk assessments that address the potential impact from both internal and external risks, coupled with a process to strengthen existing controls and develop new controls as necessary.
What else can they do?
JC: An effective whistleblower program...should be implemented and easily accessible to employees and students. An available 24-hour hotline, sometimes provided by a third party, is an effective way to promote reporting. Universities should develop a strong internal audit team and plan. Audits should be structured to test the execution of existing controls, incorporate steps that recognize fraud indicators and anomalies associated with historical weaknesses and those that are indicative of emerging risks.
A training program should provide all employees with an understanding of the university's policies, procedures, processes and controls, and how they are designed to ensure compliance with the law and regulations. Training should be tailored to the audience and provided at onboarding and on a recurring basis.
As a part of the admissions guidance process, universities can consider providing information to parents and prospective students about their code of conduct and values. This information can reinforce the university's commitment to fairness and ethics in admitting students, and the policies and procedures they use.
What should an after-the-fact investigation focus on?
JC: Universities involved in the scandal should consider hiring a qualified, credible, respected, and objective investigations firm to conduct an internal investigation that should determine:
Who of their employees at any level were involved or aware of the scheme? What due diligence was conducted on these employees at hiring or later?
What were each of the employees' roles in the scheme, and the extent of any bribes and any other form of payment received?
Is this behavior confined to one particular group/department, or is it more widespread?
What is a full accounting of these non-scholarship students and how could they be so easily accepted for admittance through the intervention of athletic department personnel when they had no athletic accomplishments to support their selection?
What are the identities of the students involved? What actions should be taken with respect to them?
What were the universities' involvement and communication with the parents of these students? Did parents advance the illegal scheme?
What applicants who legitimately applied to the universities were denied admittance as a result of the scheme? It should be remembered that every time the alleged defendants in this case got a student dishonestly admitted to the university through the side door, it closed the front door to a student seeking honest and legitimate admittance.
Were any vendors or third-party agents involved? What due diligence was done in regard to affiliations with vendors and agents, and when?
The university should be provided a final report with findings and recommendations to remediate issues, and to put in place policies and procedures to prevent it from happening again. This report should be made public.
What if you are at a university not implicated in the scandal?
JC: If I am the president of a university not implicated in the cheating scandal, I would appoint a strong leader to conduct an internal investigation to find out if something like the corruption of the admissions process could be going on at my university. I want to be sure the university's compliance program and internal controls would act as a tripwire to signal if there is the possibility this could occur.
If I were to find this type of scheme was occurring, I would retain counsel, promptly report the matter to the proper authorities, fully cooperate, take remedial action--including disciplining or terminating implicated employees--and take appropriate steps regarding involved students.
Ben DiPietro
@BenDiPietro1
ben.dipietro@lrn.com
A survey of around 500 internal audit executives by the Institute of Internal Auditors found 85% said internal audit rarely or never provides assurance on management information sent to the board.
| | |
| --- | --- |
| In case you missed yesterday's webcast on how to operationalize your ethics and compliance program using data analytics, watch now on-demand. Learn from LRN's Susan Divers and two outstanding practitioners Collin Lowney of AECOM and Joseph Suich of GE Power. | Our newest infographic highlights top line metrics and statistics from LRN's 2019 E&C Program Effectiveness Report. View now to learn key characteristics and trends of high-performing ethics and compliance programs. |
About the Author

More Content by LRN Corporation