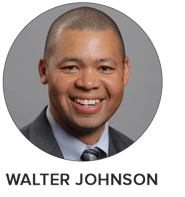 Listen Up! Don't Take Listening for Granted
BY BEN DIPIETRO
Listening is one of the most important skills in the compliance and ethics officer's toolkit, and often it is the most difficult skill to obtain. Listening well, with 100% concentration and attention, is hard work, and takes practice and patience to master.
Walter E. Johnson, director of compliance and ethics at Kforce Government Solutions, led a panel at last week's Society of Corporate Compliance and Ethics conference entitled: "Just Listen: Connecting the Untold Stories to Shape Culture.
Kforce Government Services is a federal contractor and a subsidiary of Kforce Inc., a professional staffing services company. KGS provides services and manufactures a product used by first responders.
In the session, Johnson explains there are 27 different types of listening, and that compliance people need to be aware of what type of person they are dealing with, then tailor their listening accordingly. He outlined the eight 'A' words that make a leader an effective listener.
They are being approachable; being attentive; asking questions; allowing conversations to happen; acknowledging what is being said to you; being adamant to show this is important to you; being authentic; and being appreciative.
The goal is to build rapport with your people. "Get them comfortable speaking to you," Johnson said. "Find common ground. Listening is a trait we have to focus on."
Johnson spoke to LRN about the importance of listening, shared some details about his compliance and ethics program, and looked ahead to what the future holds for the profession.
Why is it so hard to listen? Does compliance listen well enough? How can it improve?
Johnson: I believe listening is a skill taken for granted. Formal students of the communication field, as well as those that thrive on human interaction, understand the importance of listening. They invest heavily in learning the trade, while others invest incrementally to achieve a specific goal, such as securing a client meeting.
Mindfulness is essential to listening. According to an episode of the show"Brain Games," the mind is wired to solve problems. When we are listening, we are determining what is the problem and our solution. Mindfulness is listening to every element of the story--such as the who, what, where, when, why and how--before attempting to share a recommendation.
I believe compliance understands the importance of listening but there is room for improvement. Personally, I can do better in this area. Recognizing that there is room for improvement is the first step to improving.
Listening is fundamental to obtaining information necessary for developing and implementing policies, training curriculums, conducting risk assessments, conducting investigative interviews, and other program elements. It's through listening that we engage the business and demonstrate our understanding of operational challenges by adding value to proposed solutions. When we understand the benefits beyond us, we will fine-tune this skill.
How are you working to embed ethics and compliance into your business?
Johnson: Kforce Government Solutions (KGS) has approximately 700 associates in different locations throughout the United States. I believe relationships are key to embedding ethics and compliance throughout our business. I have routine one-on-ones with our chief executive, board members, general counsel, and vice president of contracts and pricing. These one-on-ones help me achieve buy-in from leadership.
We have several forums that I use as my platform, such as the quarterly board's compliance committee meeting; the bi-monthly compliance operations committee meeting; monthly management roundtables; and our town hall meetings. It's through these forums that I have identified compliance champions to ensure that we maintain a direction that is consistent with our mission and values.
It's the relationships that I have with each participant that support progression in this area. For example, we have representation from all business areas on the compliance operations committee. They are aware that I rely on them to share compliance and business risks so that our program can provide the resources to help with the daily challenges they face. I make site visits to reassure our employees that I value them; my goal is to be a resource to assist them with continuing what they were hired to do.
What can E&C leaders do to better articulate the case that companies that behave better post better financial results?
Johnson: I find my routine one-on-ones with our CEO, board members, general counsel, and vice president of contracts and pricing are extremely helpful in this area. When I share case studies and research data, the feedback helps me determining the best approach to communicate across the firm. Although the message is the same, it is restructured for the target audience. For example, I participate in our firm's new hire orientation, and my subject-matter focuses on ethical behavior and decision-making.
When is the last time your company's code of conduct was updated?
Johnson: KGS shares the code with our parent company, Kforce Inc. We call our code "Commitment to Integrity." It is updated bi-annually. The C-suite is involved in the process by insuring that content reflects our mission, core values and our expectations.
The existing version was introduced in spring 2015. Since then, there have been minor revisions to some sections, to reflect changes to policies or to provide clarity to areas where we received feedback. We are in the final stages of releasing a new code and expect to implement it by year's end to all employees.
What will be the biggest change to compliance in the next five years? What makes you feel that way?
Johnson: Obtaining additional resources, both human and technical, will continue to be a challenge for many. Although the profession has evolved and many firms recognize the need for compliance, I believe our understanding of how artificial intelligence contributes to compliance will determine whether more or less is invested.
What will compliance look like in 25 years?
Johnson: I expect artificial intelligence will be embedded in supporting compliance. We will have instant access and better data that supports our auditing, monitoring, reporting, investigating and training functions.
The recent LRN report on moral leadership shows employees want companies that make decisions on good morals and ethics, and think their colleagues would behave better if supervisors emphasized morality more than if they just exercised their power.
Silicon Valley is taking a moment for ethical reflection given how much money the tech sector gets from the Saudi Arabian government, Wired reports.
Culture, economics and geographic location are big factors when people are asked who should die or get injured when an autonomous vehicle has to choose between two no-win scenarios, MIT Technology Review reports.
More behavioral scientists are joining risk assessment teams, as organizations focus more on patterns of human behavior when designing and implementing compliance programs, WSJ's Mara Lemos Stein reports.
A 192-page report about the University of Maryland football program, conducted after the death of a player, found numerous problems with oversight but stopped short of calling the program's culture toxic, The Washington Post reports.
A coalition of global investor organizations is out with a paper saying they want companies do work faster to adopt universal standards for how to disclose and report environmental, social and corporate governance information, IPE.com reports.
Americans are slowly starting to back away from their negative attitudes toward business, according to a new survey, Forbes reports.
We'd love to hear from you!
Your feedback is extremely important to us. We want to ensure that we deliver insights that you want to read, when you want to read them. When you have a moment, please complete this 3 minute survey about the E&C Pulse Newsletter.
| | |
| --- | --- |
| Our CEO, Dov Seidman, reflects on the current state of Moral Leadership in business in this recent article published by World Economic Forum | A Code of Conduct should reinforce good behavior and discourage bad behavior. But HOW do we do that? LRN's own Jim Walton wrote a blog post that helps answer that question. |