Why Do Good People Do Bad Things?
What is the essence of integrity?
Paul Fiorelli, director of the Cintas Institute for Business Ethics at Xavier University, told the story of golfer Brian Davis at the Society of Corporate Ethics and Compliance oil and gas conference in Houston on Monday.
Trying to win his first tournament as a professional golfer, Davis was in a sudden-death playoff where the winner of the next hole wins the event, which comes with first-place money and even more lucrative endorsement deals.
Davis hits a shot off to the side, into a sand-filled hazard. It's against Professional Golf Association rules for a player's club to strike any reeds or debris in a hazard. Davis hit his shot onto the green but felt his club might have made contact with a reed.
No one really noticed and play was going to continue but Davis told an official what happened and asked he look at video to see if his club struck anything.
It did.
Davis lost the tournament, the $400,000 first prize and the big-money endorsements that would have accompanied a victory. This happened in 2010; Davis still has not won a tournament but said he's never regretted his decision to report himself.
"It turned out to be one of the best things I have done," he said. "I can go to sleep at night and never wonder. That's the biggest thing for me."
But for every Brian Davis, there is a Ken Lay at Enron, a Bernie Madoff to bilk investors out of billions, a team of executives at Wells Fargo who endorse the practice of signing up fake accounts to boost numbers and fees, even regardless of the consequences.
Gray matter
Fiorelli said it's easy for people to do what is right when issues are black and white, a matter of clear-cut right versus wrong. What to do becomes more complicated when the real-life shades of gray are factored into the decision-making process. And most of the world is gray.
He talked of the time he had Roger Fine, former general counsel at Johnson & Johnson, speak to a group of his students and tell them of the importance of making ethical decisions.
"What is the actual decision-making process? It's not good enough to teach what the right decisions are, you've got to teach how to get there," Fine told the class.
Dealing in gray matter means there are ethical arguments to be made for both sides under consideration, and how someone perceives the issue will influence how they act, said Fiorelli, adding two people can look at the same thing, reach opposite conclusions and both be right.
"Dig deeper. Do your due diligence," said Fiorelli, who said it's vital to reach out for other opinions inside and outside the organization. "Get better answers. Don't just accept, 'It's good enough.'"
Example: the Titanic had enough life boats to meet the legal requirement at the time of its fateful voyage in 1912, but that amount was enough to rescue about half the passengers on board. Legally, they complied with the law; morally, they missed the boat (literally).
"It was something that was lawful, but was awful," said Fiorelli. "If laws are what we must do, ethics are what we ought to do."
Beyond the Nixon-era questions of "What did you know?" and "When did you know it?" should be added a third question, said Fiorelli: "What did you do about it?"
People don't like mistakes, said Fiorelli, but they are likely to forgive those who make them if they are candid, come forward as soon as they know of a problem, explain what happened and what they will do to make sure it doesn't happen again.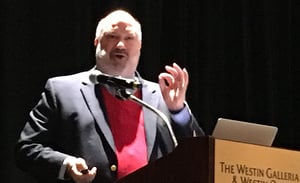 Bloom off the Rose
While Davis is the shining example of an athlete who does the right thing, Fiorelli used baseball great Pete Rose as the flip side. Rose was widely believed to have bet on baseball games--always for his team to win--but never came clean when confronted by baseball investigators.
Had he made a sincere apology, explained his circumstances, told people he had a gambling addiction, Fiorelli said he thinks Rose would have received a lesser punishment than a lifetime ban from the sport, and probably would be in the Hall of Fame now, too.
"Encourage open communication and transparency," he said. "Deal with the problem, don't just wish it away."
That means challenging how goals are obtained; if something looks strange, take a closer look, he said, citing again Wells Fargo and its culture that put sales above all else, and punished those who spoke out or questioned how those sales were being achieved.
Fiorelli recounted a speech from Jack Welch, the former longtime chief executive of GE, who divided employees into four groups: people who share company values and make their sales numbers; people who don't share the values and don't make the numbers; people who share the values and don't make the numbers; and those who make the numbers but don't share the values.
Fiorelli said he asks his students which of that group would they fire first. While it's obvious the person without the values and the sales will go, to send the message that ethics and integrity matter requires the best sales people who don't share the company's values be the first out the door.
"This is the group of people that you fire first if you want to show the importance of organizational culture, of the mission," he said. "If you promote them, if you reward them, know what you are telling your people? That those values and mission statements we have, they're irrelevant."
(CORRECTION: In the Feb. 7 newsletter, I wrote Virginia Gov. Ralph Northam attended law school. He did not; he attended medical school.)
Ben DiPietro
@BenDiPietro1
ben.dipietro@lrn.com
A survey of more than 16,000 employees in 14 countries by Boston Consulting Group found 75% of women, people of color and those who identify as LGBTQ said while they see diversity programs in place at their organizations, they don't feel the effects of those initiatives. Half of the diverse employees asked said they experience bias in their daily work life, while 63% of white men said they see no bias.
| | |
| --- | --- |
| This week, LRN is a sponsor at SCCE's Utilities & Energy Compliance and Ethics Conference in Houston, Texas. Later today, Ben DiPietro will be facilitating a panel discussion on mobile communications featuring Compliance executives from PSEG and MISO Energy. | Most companies find it legally problematic to retroactively conduct background checks unless specifically allowed for in an employment contract or employee handbook, but many have workarounds. Learn more in LRN's most recent blog post, a continuation of last Thursday's edition of the E&C Pulse. |
About the Author

More Content by LRN Corporation