First in Name Only: Ethics Deserves More Respect Within Organizations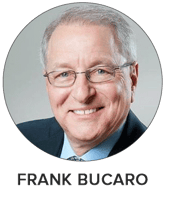 It may come first in the order--ethics and compliance--but oftentimes ethics is treated as an afterthought, the little brother following after big bro compliance, says Frank Bucaro, a speaker and writer on ethics and trust who works with companies to nurture values-based cultures.
Bucaro talks about why ethics and compliance should be separate functions, what it will take for that change to happen, and what companies can do to win the trust of their stakeholders.

What is the state of ethics in business?
Bucaro: One of the key issues I see is that people confuse ethics and compliance, just by the title: ethics and compliance officer. You can't be an expert in both. I see the difference as compliance is reactive and ethics is proactive. Ethics must be chosen. Compliance means responding to something coming from somebody or something else; ethics is your own choice.
When I look at, for example, should there be compliance people on boards...my take on that is there ought to be someone who's an ethics professional on a board in addition to compliance. Where are the values? Where do they come from? Who is focusing on that aspect of the compliance picture? Because it is all about trust. How we build trust is the basis of a reputation, it's the basis of building employee engagement, it's the basis for everything that just can't be based on law. It must be based on values and ethics and transparency and integrity.
When an employee goes to a compliance and ethics officer, it's my experience that they equate the two...if you're legal then you're ethical, and that's not necessarily true. There are lots of corporate examples of they kept the law but they were unethical and they still have their jobs.
What role has ESG and shareholder activism played in focusing attention on corporate behavior? How does it align with ethics and compliance?
Bucaro: A lot of people believe that good ethics is good business. I agree. Then, what's the problem? You look at ethical companies that are striving to work on that, companies that strive to focus on values to build business, that's a different approach than a lot of companies. We have to look at maybe a mindset of "What can I do for you to get you to cooperate with me." We need to be more into the giving, the understanding, and once I meet that need then I can supply the answer, the credentials, the techniques, whatever the case might be.
Sometimes ethics is an elusive concept. Who's out there doing actual ethics training, who's out there that's challenging values? Look at Wells Fargo: I'm sure they have a mission statement, I'm sure they had values all over the walls, but what did they do? What must their compliance department think about what went on? Purdue Pharma: What must their compliance people think about the training they instilled in these people over the years, and what is happening now? There's a disparity there that we need to address in a personal, more inclusive, more interactive way.
Most compliance people understand a strong program is anchored on trust and having an ethical purpose behind it. So why is it they're having trouble? Are they not getting buy-in?
Bucaro: They're not getting the buy-in because, I'm not sure what ethics training is. For a lot of companies, they go online and take an ethics test, yes and no answers, and think they have fulfilled the ethics requirement. When we deal with ethics, it reveals that true education only links up with people's real experience. So how do we link up ethics as an internal innate value to compliance, to sales, to board development, board participation?
It should be involved in every area of the company's life but we segment it because a lot of times compliance people...they deal with risk management, organizational development, new hires. Ethics, nine times out of 10 in my experience, takes a back seat. Because they just don't have the time, number one. Number two, chances are they are not trained in ethics in order to be able to do it in as an effective way as they're doing their compliance job. Sometimes I think ethics training is a stepchild to the family.
What changes that?
Bucaro: I'm starting to wonder. How much more can we stand of Wells Fargo? What will it take for change to happen? Is it just about money or do some of these banks, do they see their fines as just the cost of doing business, because they are making so much money? What organizations need to think about is, "What is this telling my people about our focus, our mission, when things like these things keep happening? What must it say of the compliance department, who are in charge of training people to do the right thing at the right time for the right reason within the law?" That's what I call the moral spiral--one issue leads to another, leads to another, leads to another. When does the spiral stop?
Should there have to be a business case made for good ethics? Why must acting right be tied to any metric?
Bucaro: Everything affects your reputation; it's all about relationship-building. Everybody wants to do business with people and organizations they trust. You have to earn trust, it's not a given, it must be built. How do you build reputation? Consistent, positive affirmation of the goals, of the mission, of the values. How we treat customers, our employees as a whole, based on the values that the organization says they espouse and have embraced. Where does that break down? That's the issue.
On what level of management does it break down? Research says it's mid-level management is the weakest ethics training link in an organization. The first people that they go to is their manager--employees go to their manager. Well, they're not trained, according to a lot of research. Would it be better to train them to avoid messing it up and causing other issues of employee turnover customer dissatisfaction?
Name two things well-intentioned organizations do to hamper their efforts to build ethics-first cultures.
Bucaro: When they let the bottom line dictate their behavior and their values. When money is the main factor in driving an organization, then everything else takes a hit. Number two is the lack of training, particularly, I'm biased, in my field of ethics and values, and transparency and integrity. It takes a backseat. I think that type of training, which is intrinsic, must be done at least as equally as compliance training. I'm not convinced after 30 years speaking on this that that's happened, and I think that's what is causing a lot of the issues we see in corporate America.
Ben DiPietro
@BenDiPietro1
ben.dipietro@lrn.com
Transparency International released its Corruption Perceptions Index for 2018, and ranked Denmark as the least-corrupt country with a score of 88. Somalia was ranked worst, scoring a 10. The U.S. netted a 71 and dropped out of the top 20 least-corrupt nations. The average score was 43.
The death of cryptocurrency exchange owner--the only person who knew the password to a wallet containing $137 million--puts the spotlight on shortcomings in transparency and accountability that remain obstacles for the blockchain, Futurism reports.
Insurer are much more closely vetting companies seeking to buy coverage to protect them from #MeToo incidents; in some cases, whole industries are being rejected, the Intercept reports.
Ethical accountability is the question at the heart of Virginia Gov. Ralph Northam's blackface scandal, Matt Kelly writes in the Radical Compliance blog. Also from Matt: Al Rosa, GE's top compliance exec, is leaving the company for Google.
The NFL is hiring a director of compliance, the Compliance and Ethics Blog reports.
A new company will review the backgrounds of entertainers before they are hired by companies for high-profile jobs, an effort to avoid those with embarrassing behavior that could cause a reputational black eye, The New York Times reports.
Wells Fargo is revamping its internal audit system to break down silos in an effort to avoid future scandals, WSJ Risk & Compliance Journal reports.
The Atlantic looks at the role anger plays in our personal, professional and political lives.
Looking to curb a culture that tolerates breaking the rules to win, NASCAR says it will disqualify cars that win races but are found to have cheated, Associated Press reports.
| | |
| --- | --- |
| LRN's Marsha Ershaghi Hames recently wrote a chapter in SCCE's 2019 Complete Compliance & Ethics Manual that dives into the role of the compliance & ethics practitioner around the topic of workplace harassment. Read an excerpt of this chapter in her latest blog and learn 10 tips for an effective anti-harassment strategy. | There's still time to register for this week's #HOW Matters Livecast featuring LRN Founder and CEO Dov Seidman and Zainab Salbi, humanitarian, media host, author, and founder and former CEO of Washington-based Women for Women International. |
About the Author

More Content by LRN Corporation