The Quest to Make Better Sense of All the Data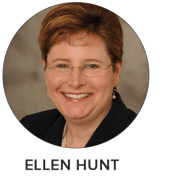 In the first part of our interview with Ellen Hunt, senior vice president and chief audit, ethics and compliance executive at AARP, she spoke about her compliance program, budget, how she buys products and how she works with vendors.
Here she discusses how she determines whether a product or service is delivering desired results, what she wants in terms of new products to help her do her job, and how boards can work to better empower ethics and compliance departments.
Once you have a product or service in place, how do you evaluate whether it's working?
Hunt: One of the things I have found to be a little bit problematic is reporting. It's all about data; I need to get it quickly, I need to visualize it, I need to access it, I need to share it. Particularly when thinking about case management systems or training systems or all of those things, they sit in their own silos. Not good. We really need to think about this as the organization's data, and how can we share it.
When I report to the audit committee I still spend way too much time massaging the data and creating the reports. For me, that's always problematic, but reporting is key; my data doesn't mean anything to anybody else if I can't share it. That's the area that, if you are really helping your clients with those reports, they're clean, they're visual, they're easy, even if customized. That would be huge.
What sort of analytics do you want to see?
Hunt: I want more. One of the things I would love to have is a software product for investigations that automatically builds a timeline for me. Timelines are extremely important from an investigative perspective, and they're important in a report. Everybody gets the timeline--what happened when, who talked about what, where were they meeting, that kind of stuff. I haven't found a product that really does that.
It is all about taking disparate data sets, and seeing what the insights are. Usually HR owns the learning management system. I want to know who finishes the 45-minute course in five minutes; who doesn't get a good score on the answer. But then I want to overlay that on the number of ethics questions and misconduct cases. Do we have a problem that people don't understand our anti-discrimination policy? Do we have a problem that people don't understand our conflicts of interest policy? Do I have a problem that people still don't get the travel and entertainment policy?
That's the kind of information I need and I'm not getting it because these are disparate systems that live in their own little silos. So I have command over the data in my systems, but I don't have command over the others.
How would it help to have compliance people on boards to make the case for the function? How can that come to pass?
Hunt: It's all about managing reputation risk...the board never wants to be embarrassed, the executive team never wants to be embarrassed. If you happen to be somebody like Wells Fargo, Uber, or some of those other companies where that data was sitting in the E&C department, they had concerns, people did what they were told to do, and nothing happened? That's very problematic. The other side of that coin is, without somebody who has the mindset about what is happening in your organization, how can you have 214 concerns about the same matter and not have done anything about it?
If we had ethics and compliance officers on boards, we would really be driving organizational justice through the organization. We cannot tell your employees please raise your voice, please come forward, and then do nothing. The executives and the board have to make sure they are providing oversight of the culture, which means that there must be organizational justice.
We all have these great dashboards but what are we really telling the board? I talk to my audit committee about that. We have a dashboard that goes to audit committee, but it is also published to the entire organization. Dashboard items include:
How many questions and what type?
How many concerns and what type?
How long did it take us to close it?
What did we do?
How many were substantiated? Unsubstantiated?
What was the disciplinary action?
Otherwise you're asking your employees to be very brave, and let's not pretend there is no possibility of retaliation. When employees come forward and tell me I am afraid of being retaliated against, all I can say is I will do the best I can to ensure that doesn't happen. But I can't guarantee that, I can't promise that.
Are you hopeful changes will come about? How long?
Hunt: I don't know how long but I really do think boards are really rethinking diversity, not only in just male-female, but what's the background where do people come from. Also, I think there's going to be a huge convergence about risk, you've got your chief risk officer, your strategy person, you've got your ethics officer, you've got audit--how are we doing all of these things? They need to be done in the right way, with the right data and the right structure so that they're actually helping the organization have a competitive advantage of being ethical but also managing risk.
The risk is you can't have chief risk officer dealing with business risk, an ethics and compliance officer dealing with ethics risk, and audit over there doing another risk assessment. So another product I would love is a great enterprise risk assessment process that includes all of these. Let's get all the data together. How can I get insights into how the business is running if I can't get all the relevant data?
Where do you anticipate the E&C space being in five years? 25 years?
Hunt: The data analytics revolution is here. I think this profession will have a real seat at the table and has to influence how artificial intelligence is going to be utilized in our organizations. We'll continue to have to deal with and establish policies around privacy, where is the line between what our employees do at work and what they do in their private lives.
Twenty-five years from now, it's going to look completely different, but I think it's going to have a position in the organization that is so central to what we do. I can buy a pair of shoes or a bottle of water anywhere, it doesn't really matter. But maybe what matters to me is I want to buy it from an organization that gives back to the environment, or I want to make sure it is an organization that demonstrates its commitment to equal opportunity. I think ethics and how you do business is going to be the major differentiator in the next five to 25 years.
Ben DiPietro
@BenDiPietro1
ben.dipietro@lrn.com
A survey of 2,000 C-suite executives from 19 countries by Deloitte found 33% listed setting strategy for the Fourth Industrial Revolution as one of their top three challenges. Sixty percent said their organization's knowledge about Industry 4.0 largely is held by a few people or units within the leadership team. Forty-one percent of respondents who said they work in siloed organizations said they don't know what skill sets will be needed for future workforces, versus 35% who said that in non-siloed companies.
Facebook admitted it secretly paid teens to install software on their phones to allow the company to access all of their usage data, part of an effort to obtain information on its competitors, TechCrunch reports, the latest in a series of reputational black eyes for the company. Apple blocked the app.
China and Russia have the capability to disrupt severely U.S. energy infrastructure, Kate Fazzini of CNBC reports, as USA Today reports temperatures in parts of the U.S. plunge to generational lows. Energy is just one area where China and Russia are working in tandem to challenge U.S. leadership, Washington Post reports.
A measles outbreak prompted Washington state's governor to declare a state of emergency, CBS News reports. Axios says doctors need to step up information campaigns to counteract anti-vaccine disinformation that leads to people not getting vaccinated.
The SEC penalized four companies this week, fining them more than $400,000, for having poor internal control over their financial reporting, sending a signal to companies they must fix--not just identify--their internal shortcomings, Matt Kelly writes on his Radical Compliance blog.
A measure before San Francisco's Board of Supervisors would ban the government's use of facial recognition technology in the city, the Verge reports.
Russia's Ministry of Justice wants lawmakers to ease laws against corruption to make some actions exempt from punishment, NPR reports, saying sometimes it is impossible to adhere to anti-corruption rules.
Harvard is expanding the scope of its computer science curriculum to include the teaching of ethics, Harvard Gazette reports.
Insights from LRN's 12 Step Guide for Boards of Directors to operationalize ethics and compliance were highlighted in this recent Forbes article by Roger Trapp. The article features quotes from Susan Divers and David Greenberg from a recent blog post by Ben DiPietro on Boards' commitment to compliance.

Join LRN CEO Dov Seidman and Zainab Salbi, humanitarian, media host, author, and founder and former CEO of Washington-based Women for Women International as they discuss Zainab's highly personal new book, Freedom is an Inside Job, and the impact of freedom on the way we lead in a more conflicted world.

REGISTER FOR THE LIVECAST →