Making Progress on Ethics and Compliance in Latin America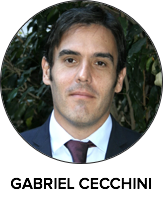 Gabriel Cecchini is a consultant in environment, social and governance (ESG), and ethics and compliance, based in Buenos Aires, Argentina. He advises private and public local and regional organizations in the design, implementation and evaluation of their governance and integrity strategies, programs and tools.
Cecchini is an ESG advisor for Latin America at RepRisk AG, and a director at ESG Integridad, and is a member of the advisory committee of the World Economic Forum's PACI project on "The Future of Trust & Integrity."
He talks to LRN about the state of ethics and compliance in Latin America, how things have changed since the Odebrecht scandal, and what the region must do to move forward.
How did you get started in ethics and compliance?
Cecchini: In 2009, I was hired to start coordinating the activities of a newly established Center for Governance and Transparency at IAE Business School, one of the leading business schools in Argentina and the region, with the aim of fostering and developing the local field of integrity and compliance. The tasks ahead seemed very compelling and interesting, considering the challenges the private sector faced and still faces regarding transparency and integrity issues.
From there we launched Argentina's first network of compliance practitioners as a platform for the exchange of best practices and experiences. We developed corporate compliance certification programs together with the Ethics and Compliance Officer Association (now the Ethics and Compliance Initiative). We undertook several collective action initiatives in different sectors following the model of the World Bank, the United Nations Global Compact, and others.
Describe to me the state of ethics and compliance in Argentina and Latin America overall?
Cecchini: In the last 10 years there has been a formalization of the field in Argentina and the rest of the region, with multinational enterprises and their subsidiaries leading the way in terms of establishing specific function roles for compliance officers, and the allocation of resources to compliance departments, processes, procedures, and tools such as codes of conduct, anti-corruption policies, whistleblower hotlines, trainings, etc.
"Multilatinas," or MNEs of regional origin, have also begun, though with some differences from country to country, to adapt to this new trend in recent years in order to be on a same level with their international peers. In both cases, the global and regional regulatory environment and prominent transnational anti-corruption enforcement cases have helped to propel these changes at the regional level. Perhaps the ones that have been more slow to accommodate to this new situation have been local private capital companies operating in specific countries that have not been able to anticipate these trends, or were in "comfort" zones or networks with close ties to the public sector.
Which Latin American countries are making the most progress in fighting corruption?
Cecchini: In recent years most of the largest Latin American countries--Chile, Brazil, Colombia, Mexico, and Argentina--have enacted different anti-corruption legal and regulatory frameworks. These include corporate liability regimes, leniency agreements and certification systems that have helped to induce companies to start implementing compliance and integrity programs and tools, and also to consider to proactively share with legal and regulatory authorities information on illegal deeds of their own to mitigate fines or sanctions.
In the case of Argentina, for instance, the corporate liability regime in function since early 2018 made mandatory for companies having large contracts with the public sector to have in place an integrity program, including a code of ethics, rules and procedures to prevent illicit acts in interactions with public sector organizations in procurement processes, and to have regular compliance trainings. Though many companies have started to adapt to this new legal and regulatory environment, the low level of actual enforcement found in certain countries allows for some of them to only incorporate so-called "compliance-based programs" that are not effectively implemented in reality.
How has Operation Car Wash changed corporate behavior in Latin America?
Cecchini: This scandal and others of similar features, like the most recent "notebooks" (Cuadernos) case in Argentina, have exposed the systemic nature of corruption with the existence of business cartels tied to public sector contracts and the illegal financing of political parties. These actions undermine competition, lead to price-fixing, the rigging of bids for contracts, and/or the payment of bribes to secure business.
Most importantly, in all these cases of grand corruption, ordinary citizens and the public in general began to connect the dots and realize that these were not distant corruption deeds that involved or concerned politicians at high levels of government, or C-Suite executives of large companies. All of these corruption deeds were affecting their quality of life, and impacting on the quality of services provided by the government. These very same citizens started to demand accountability from their governments and politicians, as well as leaders from the private sector.
The most recent key political developments in the region can be linked to a negative assessment on the part of citizens of the status quo and a demand for change in terms of transparency and integrity practices that in their view must involve the private sector. In several of these cases top executives from these companies--including CEOs, founders and owners--were for the first time indicted, prosecuted and sent to prison, something unheard of previously in the region.
What are the next steps organizations in Latin America need to take to advance the ethics and compliance agenda?
Cecchini: As organizations in the region begin to undertake the deployment of compliance programs, what is needed next is the further adjustment of these tools to local and regional cultural contexts. Sometimes many of these tools are transplanted from models that have their origins in developed markets without regard to local and regional customs, languages, the historical and political sensitivities of the countries.
Secondly, these programs need to take a step further from an exclusive focus on normative and rules-based legal compliance to the fostering of a culture of integrity that promotes and rewards best practices and the prevention of compliance failures. This includes better specific trainings based on concrete dilemmas and cases; the promotion of a speak-up culture; the inclusion of integrity targets in compensation and bonuses plans; and participation of compliance officers in business meetings. This evolution needs the critical support and involvement of senior management, giving the function of compliance enough independence, resources, and access to top decision-makers to be able to perform this extended role.
Thirdly, as corruption problems are in many cases systemic to sectors or industries, companies committed to a culture of integrity need to start acting together, joining forces to level the playing field through collective initiatives. These can include integrity pacts where they can agree on anti-corruption standards and best practices to which all parties abide, and draw a distinction with regard to other traditional players that want to keep playing by the old rules. Through these collective action initiatives--in which can also take part as additional stakeholders actors from civil society or the public sector--the private sector can show to society in general that they are serious in fighting corruption and that silence and indifference is no longer an option.
Here again it is key here that top leaders of these organizations take a public stand on these issues and lead these initiatives at their sectors or industries.
Talk about your work with the World Economic Forum's PACI project on "The Future of Trust & Integrity." What is that and where does it stand? What's next?
Cecchini: "The Future of Trust & Integrity" is a multiyear Partnering Against Corruption Initiative project. PACI is the World Economic Forum principal CEO-led platform in the global anti-corruption arena, building on the pillars of public-private cooperation, responsible leadership and technological advances, and being a leading business voice on anti-corruption. This project aims to define the fundamental role of building trust and integrity while addressing the root causes of corruption.
Ben DiPietro
@BenDiPietro1
ben.dipietro@lrn.com
Some interesting statistics from Ethisphere Institute's annual list of the World Most Ethical Companies: 75% of the companies use multiple mechanisms to keep their board updated on their organization's culture, and 73% provide special ethics and compliance training to all their managers.
Papa John's reached a settlement agreement with its founder and former chief executive John Schnatter, in which will he resign from the board if an independent director is appointed, Reuters reports. Also, The New York Times reports former Nissan Chairman Carlos Ghosn was granted bail in Japan, where he faces charges of underreporting his income.
Consumer advocacy organizations want the U.S. to establish rules for the use of genetic data collected by companies that sell at-home DNA testing kits, Washington Post reports.
LRN founder, Chairman and Chief Executive Dov Seidman was featured in a New York Times article about how to get people to build trust in artificial intelligence. Seidman says the key is to scale up moral leadership to ensure technology brings out more equality and fairness.
The chief executive of the San Francisco Giants baseball team is taking a leave of absence after video surfaced of him physically abusing his wife, CBS Sports reports.
Companies face the reputation risk of "crisis by contagion"--when a company in your industry or your country gets in trouble, and the public assumes others like it also are guilty, crisis management expert Dan Laufer writes in his new New Zealand Herald column.
Google won't remove a Saudi government app that lets Saudi men keep track of Saudi women, Insider reports.
More than twice as many shareholder class-action lawsuits related to corporate misconduct were filed in 2018 than in 2013, GAN Integrity reports.
A reporter with no medical training was able to secure a "Top Doctor" designation, showing how these accolades can't be trusted when trying to evaluate a doctor, Pro Publica reports.
| | |
| --- | --- |
| LRN's own Jim Walton recently had an article published in SCCE's CEP Magazine that dives into the components of a code of conduct your organization should to truly make it impactful. | In LRN's latest on-demand webcast, Emily Miner and Jan Stanley define moral leadership and explain how leading with moral authority can lift individual and organizational performance. |
About the Author

More Content by LRN Corporation