Ethics is Winning, Says Outgoing SCCE Head
BY BEN DIPIETRO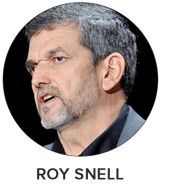 Roy Snell is retiring after a distinguished career in compliance and ethics, the last two decades leading the Health Care Compliance Association and the Society of Corporate Compliance and Ethics, which holds its annual conference Oct. 21-24 in Las Vegas.
He's watched as ethics and compliance has grown from an ignored or undervalued part of an organization to one where the most enlightened companies have elevated it to the highest levels of strategic and operational importance.
Snell took time to speak with LRN about where's compliance has been, where it needs to go and why the future looks bright for ethical behavior and robust compliance.
What would you say was HCCA/SCCE's biggest impact on practice of the ethics and compliance during your tenure?
Snell: We provided a framework for experts in the field of compliance to define the role of the compliance and ethics officer/program. When we started SCCE there were a bunch of very nice people driving the compliance profession into the ditch. Their definition of what a compliance an ethics program/officer was really skewed toward one element of a compliance program; it was not effective. We stopped that and steered the profession toward the definition of a compliance program that was more comprehensive, effective, as it is defined as in Chapter 8 of the U.S. Sentencing Guidelines.
Do you think the business world is acting more ethically since the creation of HCCA/SCCE?
Snell: We are approaching 20,000 members, many have been certified and have gone to one or more meaningful compliance academies or conferences. They have access to a monthly magazine that is all about debating and refining best practices. Our members have gone out and taught others what they learned from industry experts. Compliance professionals and their staff have used what they have learned to prevent, find and fix problems. They have prevented far more cases than what you see in the press. They have stopped children from being abused, corruption from occurring and customers from being ripped off. You can't prove "never" events, but "never" events there will be.
I have talked to compliance professionals from Pittsburgh to Sarajevo to Sao Paulo. They have all told me about some problem they found and fixed when the problem was small, problems that if left unchecked could have been as big as any you see in the press. The fact that problems still exist and there are more prosecutions for some crimes, is horrible evidence provided by people who make the case that the world is worse. It is evidence there are more enforcement people with more experience prosecuting more crimes because society told them they've had enough.
Let me give you an example. Brazil has all kind of corruption cases going on right now. The intellectually challenged point an accusatory finger and say, "See the world is getting worse." In the very recent past, Brazil had very few bribery cases because they were doing nothing about the corruption problem. So the corruption was rampant. So when they decided they were going to address the issue, what would you expect to see? More bribery cases, not less. These cases are a sign of improvement, not a sign the problem is getting worse. Organizations are becoming more ethical and compliant with the rule of law all over the world. The world is becoming a better place.
Why are there so few chief ethics and compliance officers or people with ethics and compliance backgrounds serving on boards? What can the compliance community do to get more representation?
Snell: If you ask boards if they have compliance expertise…they say yes and then point to someone in a related field that really has never run a compliance and ethics program before. That will change. Because of the personal liability board members are facing and the endless settlements/PR disasters, there will be improvement here. We don't need to do anything because the pressure put on boards by society and the enforcement community is going to be enormous and will fix this problem. It just takes time.
What are the next steps needed for the ethics and compliance community to further advance its mission and to remain relevant?
Snell: Although my peers talk about what we can do to be more relevant, we really are not in charge of that. That is up to society, the enforcement community and the global economy. If the enforcement community and society decides that it would be best if the business community behave unethically and not follow the rule of law….we won't be relevant. In addition, to participate in the global economy you have to be trusted. There are companies and countries that are last on the list to do business with. They have figured out why: They are not trusted. How do you become trusted? Have a rule of law and enforce the rule of law. If you really want to take it to a much higher level or your country is weak in this area, you implement a compliance and ethics program to get your organization in a better position to make your company more trustworthy. We are and will be relevant.
(LRN will have a full team in Las Vegas, including me. Come visit us at booth 200.)
A survey of 400 chief executives and board members at U.S. companies with $1 billion or more in annual revenue by Deloitte Risk and Financial Advisory found 42% of CEOs and 50% of board members said they
talked about reputational risks
in the last year, while 53% of CEOs and 46% of directors admitted they don't have the ability to flag events that can give their organization a reputational black eye.
Some lawmakers are pushing back against attempts by voters to legislate ethics through ballot measures, The New York Times reports. The same publication looks at how business executives are being looked upon to provide moral leadership amid the absence of such from the White House.
The U.S. Department of Justice released updated guidance on when it is likely to impose a government monitor to oversee an organization's compliance program, signaling the use of monitors may become more restricted, The Wall Street Journal reports.
A female employee at office-sharing company WeWork sued the company, saying she was sexually harassed on two separate occasions, filed complaints after both incidents, and that she was retaliated against, Vox reports. The company called the woman's claims meritless, and said she was fired for poor performance.
Schools would be wise to emphasize ethics and philosophy to students as education evolves in the digital age, Education Dive reports.
Harvard Business Review dishes on which companies and industries are adding women to their boards, and which aren't.
The Massachusetts Institute of Technology is creating a $1 billion College of Computing to focus on artificial intelligence, with an emphasis on ethics, Boston Business Journal reports. Questions, thoughts, opinions? Let me know at
Questions, thoughts, opinions? Let me know at ben.dipietro@lrn.com.
| | |
| --- | --- |
| Join LRN at SCCE's annual Compliance & Ethics Institute (CEI). Our own Marsha Ershaghi Hames will be facilitating a panel session on the future of mobile & augmented reality. | #ICYMI: Last week, LRN hosted a live webcast, Tone from the Very Top: The Role of Boards in Overseeing Ethics and Compliance featuring David Greenberg and leaders from Russell Reynolds Associates. |