MGM's Code of Conduct Journey: From Boring to Wow!
By BEN DIPIETRO
In 2013 it was apparent to everyone at MGM Resorts International Inc.--from senior management to the custodial staff--that the company's code of conduct was a dud.
"Everybody was bored with the old code...everybody was fed up," Omar Khoury, MGM's vice president of compliance, said Monday at the Society of Corporate Compliance and Ethics conference in Las Vegas. "Everyone dreaded that time of year" when they would have to take the annual code of conduct training.
MGM has a long-standing partnership with LRN, and it turned to the company when it was time to revamp its code.
Job one: Remove the legalese and make the code more readable and easy to understand while maintaining compliance with all the rules to which a heavily regulated gaming and entertainment company such as MGM must abide.
Job two: Link the code to add to the sizzle of the MGM brand, actively engage employees to participate in the new code, and make it accessible from anywhere.
Overcoming objections from the legal department to reforming the code can be one of the hardest challenges a compliance team faces when making the case to revive a stale one, but in MGM's case Khoury said there was full support from legal because it "had a good understanding of the importance of compliance."
For companies where legal is proving itself to be more of a challenge to win over, Khoury suggested being willing to compromise on what you are asking for, and for working to better educate the attorneys on the benefits that come from having a code that is readable, understandable and with which employees actively interact. That meant "reminding them not everyone has gone to law school," he said.
With legal on board, MGM worked to reduce the size of its code. The old version contained 92 slides that Khoury said people would just "click, click, click" on without really taking the time to engage with or understand what the company was trying to communicate to them. The updated code has about 40 slides and takes less than a half-hour to complete.
MGM then put employees in front of the camera, asking them what they thought of the code, about compliance and ethics in general, of what methods of reports they used to flag improper behavior.
"The feedback was amazing," Khoury said, as the changes brought the once-dull set of rules to life.
The company embedded into its code the links to the policies being referenced, and tied a portion of managers' and executives' bonuses to their satisfactory completion of the code training. If they didn't click on the links to the policies? The training didn't let them proceed until they did.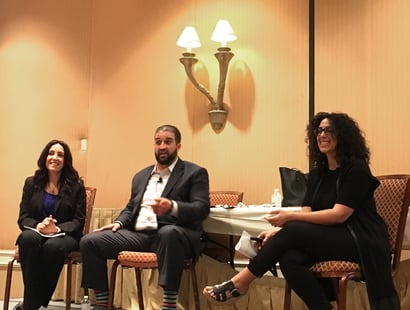 From left, Lisa Caserta, Omar Khoury and Marsha Ershaghi-Hames discussed how MGM Resorts International revitalized its code of conduct.
MGM focused on middle managers, which research shows have the biggest influence on an organization, said Marsha Ershaghi-Hames, an LRN Leader, who led the SCCE panel discussion.
The work involved creating an environment of trust and getting middle managers to be better listeners, so they could pick up on concerns being expressed by the people they were supervising, she said.
"Driving culture takes communication," said Ershaghi-Hames. It means "finding ways to stay connected all the time," in an time when people have multiple devices they are constantly checking. "But it needs to be a two-way conversation" that elicits feedback from employees and starts a dialogue with them.
The changes led to a 100% completion rate of the code training by managers, and MGM now is looking to offer incentives to the rest of its 77,000 employees to boost their participation rate closer to 100%, said Khoury.
The message of living the code is reinforced through the company's communications, said Lisa Caserta, MGM's director of compliance. Monthly newsletters contain compliance messages, and articles on topics including conflicts of interest, employee gaming policy, suspicious activity report reporting and the responsible serving of alcohol.
The goal, she said, is to maintain throughout the year the same level of engagement workers have with the code during the annual training.
MGM's next steps: Working on another code revision, before this new one gets too stale, said Khoury.
(Click here to read LRN's new white paper on how to bring your code of conduct to life.)
Why Compliance Leaders Need to Know About the Weather
By BEN DIPIETRO
As requirements for doing the job of ethics and compliance change and become more complicated, and as organizations expect their employees to do more--often with fewer resources--one thing not to do is try to achieve the new results by relying on actions that worked previously.
But giving up the skills and practices that brought a compliance officer to the level of career success and achievement they have earned is no easy task, and is much more difficult than it is to learn new skills to meet the added expectations, said Scott Eblin, author of the books "The Next Level" and "Overworked and Overwhelmed," who spoke Monday at the SCCE conference in Las Vegas.
"Letting go is more challenging than picking up," said Eblin. While learning new skills presents a cognitive challenge to people, "letting go is more emotional," he said. "And the common denominator emotion is fear. You have to learn how to mitigate the fear."
According to Eblin, the way to becoming a next-level leader is by creating a strong foundation anchored by one's personal presence--defined as how one shows up to work each day. If one comes to work in a good, positive mood, that will set a much different tone than if one shows up with a bad attitude, he said. "Manage yourself so you are leading at your best," he said.
Once the foundation of a strong personal presence is in place, that can be expanded to create a team presence--how one works with and through the people on their team--and an organizational presence, or how one interacts with their colleagues "to create one-plus-one-equal-three outcomes," said Eblin.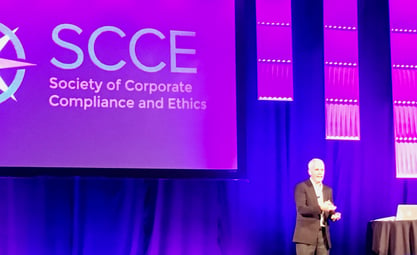 Author Scott Eblin talked about how to become a next-level compliance leader.
"If you are not managing yourself effectively, how will you leverage your team? If you cannot leverage your team, you won't have the bandwidth to engage your colleagues," said Eblin.
To manage yourself, you have to know when the skills that have taken you this far in your career need to be adjusted to confront the new tasks at hand. Many people in leadership positions got there by being the go-to people at their organization, the person who got tasks completed on time. "That is a great thing to be until it is no longer a great thing to be," said Eblin.
He cited as an example a person who enjoys cutting their own grass. While that works for one or a few lawns, no one can cut all the grass if they own a lawn-care service with hundreds of customers. "You own the results but you can't do the results," said Eblin. "You have to make a shift...and go from being the go-to person to the person who builds and leads a team."
And that brings it back to personal presence--or as one business person put it to Eblin: A leader controls the weather.
What does that mean?
If one comes to work frazzled, "with your hair on fire," the team will feel that way, he said. Show up calm and collected and they will act the same, said Eblin, adding: "How you show up is completely predictive of how they show up."
According to the Ethics and Compliance Initiative, 2% of managers are trained to develop their listening skills. Why is this needed? Because ECI found the average manager interrupts an employee within 17 seconds of their speaking, providing little or no time for them to bring up an issue or voice a concern.
| | |
| --- | --- |
| Join us on November 14th for our webcast on how to operationalize your compliance program featuring Tom Fox, The Compliance Evangelist, and hosted by LRN's Susan Divers. | We're proud to share that our CEO Dov Seidman has been recognized as one of the NYTimes Groundbreakers and will be featured at their seventh annual DealBook conference on Nov 1. |